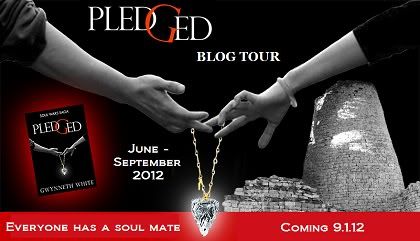 Hi guys! Today, I'm featuring a very nice and intriguing book. We're going to see what Pledged by
Ms. Gwynneth White is all about. But based on the beautiful but intriguing cover, we're all gonna like it!
Title: Pledged (Soul Wars Saga Book 1)
Author: Gwynneth White
Print Length: 290 pages
Publisher: Swallow Press
Date Published: June 3, 2012
Book Blurb:
Everyone has a soul mate. But what do you do when your soul mate would rather give his soul to the demons than be with you?
Seventeen-year-old Erin has a problem. Seth has been hers forever, but now an ancient curse is tearing him away. And the demons who invoked it will stop at nothing – even murder – to claim him as their own.
How can she win against a curse so binding that it has damned countless others to this same fate – an eternity alone?
The answer lies in the past. To find it, Erin and Seth must risk all, travelling back in time to a dangerous world where love is forbidden, and life – and death – hang on a pledge.
Follow Erin and Seth as they travel to ancient Shenaya and confront the curse that has plagued their families for millennia. Caught in a war between the Angelic Guardians and the Gefallen, the disembodied dead, they must fight to keep their souls in tact and their love untainted.
Where to Buy:
I have spent my entire life living in a parallel universe of make-believe characters, only coming back to reality for long enough to check that no one burnt the house down in my absence. A few years ago I decided to commit some of those 'friends' and their stories to paper. The "Soul Wars Saga" trilogy - "Pledged", "Sacrificed" and "Saved" - is the result of those efforts. Before that I co-authored two non-fiction travel books - "The Complete Guide to 4x4 Trails" and "The Ultimate 4x4 Guide". Both books became instant best-sellers in South Africa where I live. And before that even, I studied a degree in African History and Politics at the University of Stellenbosch. When I'm not writing, I am a wife to Andrew and a mom to Stephanie, Erin, and Kate, our teenage daughters. My family and I live in small town outside Cape Town with two dogs, a cat, a horse, and some neglected fish.
Now that you know a little about me, I would love to get to know you. Please befriend me at:
So, what do you guys think about Pledged? Interesting right?! always be on a look out on Journey with Books for more Pledged updates and giveaways! We're going to have lots of fun for this book in the next few days!