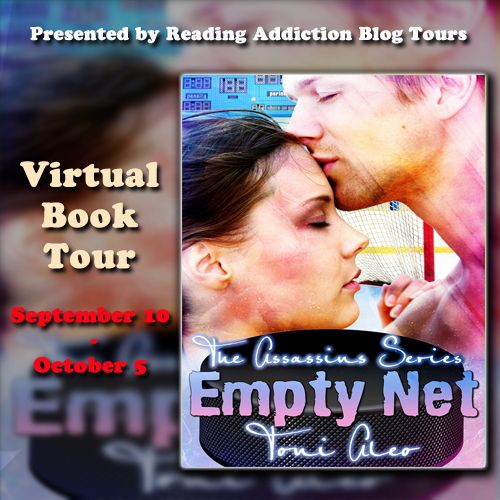 Hi everyone! It's been a while but I'm back now with a blog tour! I'm reviewing the third book of The Assassins Series entitled Empty Net written by Ms. Toni Aleo. You'll also get a glimpse inside it through a book excerpt. And finally, there's your favorite part.. the giveaway!

Title: Empty Net
Author: Toni Aleo
Genre: Contemporary/Sports Romance
Series: 3rd Book of The Assassins Series/Can be a stand alone.
Book Blurb:
Definition of an Empty Net: When a team pulls the goalie for an extra attacker, desperately seeking a goal.

Audrey Parker was in a horrible place.
She hated her job, her sister was getting married and moving out, but worst of all, she was in love with a total jerk. No matter what she did, every guy she met hurt her. All she wanted was her happily ever after. Her Prince Charming. Her Lucas Brooks! She didn't know how to change her life but she knew she needed too.
Feeling like she was about to hit rock bottom, Audrey wakes up next to Tate Odder.

Tate Odder had lost everything.
After being brought up from the Assassins' farm team, the Florida Rays to the Nashville Assassins, Tate hopes he'll forget everything he has lost. He doesn't. Each day gets harder to live in a place he doesn't know. Even being the first rookie goalie to shut out an opposing team three times during the Lord Stanley Cup Finals, he still felt empty. With the loss of his parents and sister still heavy on his heart, Tate isn't sure how to live like everything is okay.

But when he wakes up beside Audrey Parker, things start to change. She turns his life upside down with her kooky sense of humor and her bright clothing. She is intelligent and beautiful, and for once, he doesn't feel empty.
Will Audrey be the person to fill the holes in Tate's heart, making him whole again?
Or will another player ruin everything, leaving him feeling forever like an empty net?
My Thoughts:
Empty Net is the first I've ever read from Ms. Toni Aleo. It's also the third book of The Assassins Series, fortunately it could be read as a stand alone or else I wouldn't enjoy reading it as much as I did.
The first thing that made me want to read Empty Net is its book cover. I think Forehead Kisses are more intimate than any kisses. I think it's more heartfelt. I loved the cover! It's very romantic and so intriguing that it screams "read me".
I didn't expect the plot of the story. I'm not really big on older women-younger men love on my books but I guess the author made me forget about it.
The characters are very much more real to me as a reader. Audrey is a fun character to get to know. She's more real to me because she's not perfect. She has these issues about herself that are sometimes annoying but as you read, you know, that somewhere out there, someone is feeling the way Audrey is and you feel their pain and you just wish that they could give themselves more respect and love before giving themselves to other people. As for Tate, here's a guy who knows what he wants. He's young but he knows how precious time is. He learned early on that life with someone he loves is something not to take for granted. He's young but so mature and I felt that he's someone Audrey needs in her life. I felt that he came on when Audrey needs him the most.
There were times when they frustrated me. Their journey to each other is not easy. They have issues that they had to get over before they can be really together. The age gap was one but also Audrey's feeling for her jerk ex-boyfriend was also a big factor. I guess that made it more genuine. The attraction was there but Audrey didn't just accept it because of those issues looming over them. I think Ms. Toni Aleo wrote Tate and Audrey's relationship in a more realistic way.
Overall, I liked this book. It has many twists and turns and sometimes it's frustrating and other times it's just so sweet and hot but most of all it's realistic. I'm sure many women will be able to relate themselves to Audrey. So if you want all of these in your next read, why don't you give this book a try. I'm sure you'll enjoy being in Audrey and Tate's journey to happy ever after.
"I have to tell you," she said with a shy grin, "It's usually not this easy."
He looked down at her questionably, "Easy how?"
"This easy to pick me up. I usually make guys work for it."
He grinned and her smiled grew more, "So you want me too?"
She eyed him, her face bright with excitement. He may have been a little too forward but he was a
blunt person, and hardly ever hid his feelings from anyone.

She moved closer, her eyes bright with lust as she said, "I do and I don't even know you're name."
"Do you want to know it?" he asked with a cocky grin.

She moved in close, her wide brown eyes locked with his, "All I want to know is when you can leave?
I have a room not even a mile from here."

I am a wife, mother, and hopeless romantic.
I have been told I have anger issues, but I think it's cause of my intense love for hockey!
I am the biggest Shea Weber fan ever, and can be found during hockey season with my nose pressed against the Bridgestone Arena's glass, watching my Nashville Predators play!
When my nose isn't pressed against the glass, I enjoy going to my husband and son's hockey games, my daughters dance competition, hanging with my best friends, taking pictures, and reading the latest romance novel.
I love things that sparkle, I love the color pink, and did I mention I love hockey?
I am currently working on Empty Net, and I hope to have it out by November!
I hope to hear from you on here, my Facebook, or my twitter! Thank you so much!
Twitter: tonilovesweber6

a Rafflecopter giveaway
DISCLOSURE:
Disclosure of Material Connection: I am a member of Reading Addiction Blog Tours and a copy of this book was provided to me by the author. Although payment may have been received by Reading Addiction Blog Tours, no payment was received by me in exchange for this review. There was no obligation to write a positive review. All opinions expressed are entirely my own and may not necessarily agree with those of the author, publisher, publicist, or readers of this review. This disclosure is in accordance with the Federal Trade Commision's 16 CFR, Part 255, Guides Concerning Use of Endorcements and Testimonials in Advertising.